Home

»
Resources

»
Phlebotomist Salary
Phlebotomist Salary - Plus Tips To Double The Pay!
A phlebotomists salary can vary widely depending on several factors, but before we dig into the average phlebotomist salary (and tips to maximize it), let's quickly look at the job outlook.
Phlebotomists fall under the medical and clinical laboratory tech occupation, which has a very bright job outlook through 2024.
In fact, from 2014 - 2024, phlebotomy jobs are expected to grow 25%, a rate that is much higher than the national average. Not only will this create more job opportunities, but the increased demand could potentially raise the average phlebotomy salary!
So, we know the job outlook is good, but how much do phlebotomists make?
Phlebotomist Yearly & Hourly Wage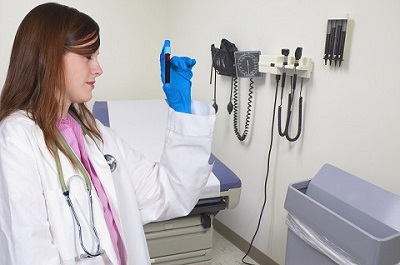 Like most jobs, a phlebotomists salary is dependant on several factors, such as:
Location
Experience
Training
Plus, each individual company has their own idea of how much money their tech's should make.
With that said, the average phlebotomist salary is $32,230 per year as of January 30th, 2017 according to Salary.com. So, how much does a phlebotomist make an hour? An annual wage of $32,230 would equate to roughly $15.50 per hour.
Here's a visual representation of the average phlebotomist pay range:
$34,000 - Hospital Lab Phlebotomist
$32,230 - Average Phlebotomist Salary
$29,000 - Mobile Phlebotomist
$22,000 - Entry-level Phlebotomist
On top of the average salary, there are certain benefits that many companies offer, such as:
Health care
Pension
Education reimbursement
Paid time off
Sick days
Bonuses
Insurance
And more
According to Salary.com, this can increase the average salary by 33.8%, bringing the annual average pay to roughly $48,810.
Maximizing A Phlebotomists Pay
Some people may have concerns about the average phlebotomist pay scale, since whether you're just starting out or near the higher end, you're still less than the national average wage.
In fact, in 2012, the average salary of a phlebotomist was over $12,000 less than average national wage.
But, that doesn't mean you can't maximize your salary! With the right training, you could actually earn double the national average!
Certification
The first step you'll want to take if you haven't already is to get your certification through an accredited phlebotomy school. A certified phlebotomists salary can be considerably higher than one without, plus it can open up better and more lucrative opportunities for you.
2yr or 4yr Degree
Completing the proper schooling and advancing to a higher paying medical position, like a nurse or clinical lab technologist, you can actually double your annual salary.
Benefit packages
When choosing or looking for a new phlebotomy job, be sure to carefully examine any added benefits the job might include such as Employee Stock Options (ESOP), a matching 401k, and so on, which could net tens of thousands per year. It's not always about the dollar per hour.
Promotions
With experience can come promotions, and by accepting a job promotion to a supervisor level phlebotomists you can reach the higher end of the pay scale. Keep open lines of communication with your higher ups and let them know that you're interested in taking on the responsibility.
Contract work
While working in a hospital or non-profit type setting, you can also do contract work on the side to help supplement your income. Many life insurance agencies and companies that require drug screens, for example, will hire certified phlebotomists on an as-needed basis.
Here's a visual representation of our tips to maximize your phlebotomist salary! Feel free to pin or share this image to help others!
Along with the above tips, you can maximize your pay by having options! Be sure to interview with several companies including hospitals, family practices, health agencies, private companies and so on. Find the opportunity that fits you and keep in mind that pay shouldn't be the end all, be all of finding the right job!
Reviewed on Feb 6, 2017