Home
»
Resources
»
Phlebotomy Order Of Draw
As you may already know, blood must be drawn and collected in tubes in a specific order, known as the Order of Draw.
This is necessary to avoid cross-contamination of additives between the tubes.
Unfortunately, this order can be hard to remember for those in training and even those in the field.
We've recognized this and created a handy guide using multiple proven study techniques.
*Tip: Bookmark this page for future reference by pinning it as an image!
Everybody effectively learns and remembers in different ways. So, we designed several learning tools below to help you learn the proper order of draw and easily remember it in the field.
*Tip: If you're looking for a pocket-sized guide to carry around with you in the field that gives you quick access to the Order of Draw and other vital information then you have to check out the best-selling Phlebotomy Notes: Pocket Guide To Blood Collection.
Order Of Draw Chart
| Blood Draw Order | Tube Color | Description |
| --- | --- | --- |
| 1 | Color Varies | Blood Cultures |
| 2 | Light Blue | Sodium Citrate |
| 3 | Red | Clot Activator |
| 4 | Gold | SST |
| 5 | Light Green | Lithium Heparin |
| 6 | Dark Green | Sodium Heparin |
| 7 | Lavender | EDTA |
| 8 | Gray | Sodium Flouride |
| 9 | Yellow | ACD Solution |
Order Of Draw Acronym
Sometimes the trick to remembering a lot of information is to create an acronym.
This helps break the information down into easy to remember chunks, with just enough info in each chunk to help you remember the bigger picture.
Acronyms are not set in stone, and you can create your own acronym to help you easily remember the order of blood draw.
Below is a simple and easy to remember acronym you can put to use right away. This will help you remember the blood draw order along with the tube color when performing venipuncture.
The acronym is Boys Love Ravishing Girls Like Dieters Love Greek Yogurt!
Boys – Blood Culture
Love – Light Blue
Ravishing – Red
Girls – Gold
Like – Light Green
Dieters – Dark green
Love – Lavender
Greek – Gray
Yogurt – Yellow
Feel free to switch it up to make it easy to remember for YOU.
Order Of Draw Infographic
We've compiled the above information in an easy-to-understand infographic for you to easily save or share.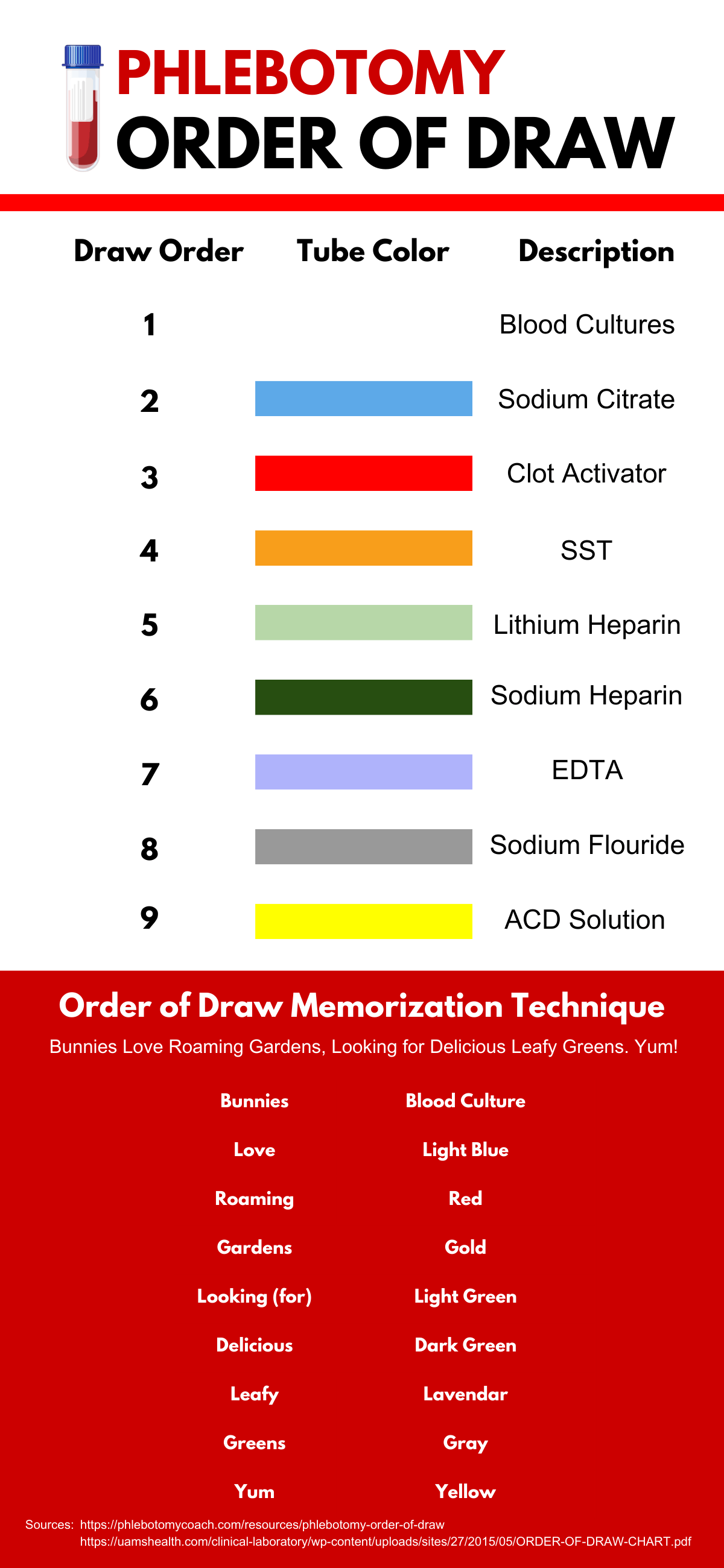 Order Of Draw Quiz
Use the chart below to quiz yourself on the proper order of draw.
Click the "Show/Hide All" button to hide the tube color and descriptions. Then, simply go down the list in order and recite each tube color and its respective description. To check your answer, simply click on the respective color and description cell (the grayed out box to the right of the order draw number) and it will appear. Good luck!
| Blood Draw Order | Tube Color/Description |
| --- | --- |
| 1 | Color Varies – Blood Cultures |
| 2 | Light Blue – Sodium Citrate |
| 3 | Red – Clot Activator |
| 4 | Gold – SST |
| 5 | Light Green – Lithium Heparin |
| 6 | Dark Green – Sodium Heparin |
| 7 | Lavender – EDTA |
| 8 | Gray – Sodium Flouride |
| 9 | Yellow – ACD Solution |
Reviewed on January 18, 2018